News
BBB national championship in Brussels

On Wednesday, December 6, the traditional national championship of the Belgian Blue breed took place in the Belgian metropolis at the
Agribex
exhibition. There were nearly 200 top animals on the show. Most of them were of a beef type, but the competition also had representatives of the original dualpurpoe line of BBB. In the final presentation of the winners of each category, three judges selected four champions in the category of bulls, cows, heifers plus first-calving females and the best cow with calf at foot too. The best pair (cow + calf) was
IRIS van Daisel
(o. Ichor) with her calf 0675 van Daisel (Volcan). It is not happened very often that the absolute winners of all three categories are exactly the same as the champions from Libramont fair which took place few months ago. The title of the bull champion has again won
DEMON de Way
(Imperial x Gitan),
LIONNE du Coin
(Imperial x Occupant) became the cow champion and
BEAUTEE van den Hondenlee
(Grommit x Panache) was awarded as the best heifer.
The complete show results are available
here
, the video from the show can be seen
here
, photos of the champions then in our photogallery
here
.
6.12.2017, Kamil Malát
Génétique Avenir Belgimex Open door day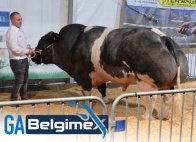 Late autumn days are in Belgium traditionally dedicated to the presentation of breeding bulls of A.I. companies (Open door day). There are companies that organize them annually (such as BBG or BBCI), some do not do any (Fabroca), others are organizing them in two-year cycles. This is also a case of Génétique Avenir Belgimex (GAB), which organized the bull presentation last Saturday 25.11.2017. In summer, the GAB moved all their A.I. bulls from Wuuswezel to a new insemination center in the village of Croix (Sovet), located just a few kilometers from the heart of the BBB breed - Ciney. Unfortunately, the expectation that the event will be associated with the opening ceremony of the new A.I. station was not confirmed, so the present breeders watched the "only" the bull show. More than a thousand breeders stood in a tent to watch the presentation of 18 top A.I. bulls in total - new bulls as well as "old matadors". Among the young ones JOSE C.A. van de Paddenhoeve (Orval x Imperial) together with ESPERANTO van Perenhof (Sheriff x Germinal) were the most appreciated bulls. Of the older bulls, the breeders' eyes were particularly pleased with IDEFIX van Terbeck (Adajio x Paysan) or HAZARD van de Pannemeers (Panache x Adajio). Jose and Idefix are among the bulls, that will be imported to the Czech Republic at the beginning of December.
»» Videos from the shows can be found on the youtube here (BBB) a here (AWE).
26.11.2017, Kamil Malát
Zwolle show 2017

Photogallery of Belgian blue champions from Dutch national show 2017 are available here, complete results you can download here (pdf file). The overall female champion was awarded Cocinelle Van't Staverhul (sire: Imperial de L'Ecluse), the overall male winner became Marly van Maris (sire: Sheriff de Centfontaine). The annual championship was organised in Zwolle during Nationale Vleesvee Manifestatie.
20.10.2017, Kamil Malát
Libramont show 2017

On Saturday, July 29th, the next annual agricultural exhibition in Libramont was held, including a national championship of the Belgian blue.
Champion in the bull category became Demon de Way (Imperial x Gitan), i
n cows Lionne du Coin (Imperial x Occupant) breed was won. Beautee van den Hondenlee (Grommit x Panache) dominated the category of first-calving female and Emma de Somme (Grommit x Noceur) became the winner of the heifer competition.
The championship was a tremendous success, especially for the breeder Daniel van Bellegem, who owns both the winning heifer and the first-calving heifer.
Champion photos can be found in our gallery here, photos of the winners of each category here, the complete result list is available on this page.
A large portion of photos are available on the BBB facebook page here.
30.7.2017, Kamil Malát
Royal Welsh show 2017

Four-years old bull Pinnacle Hero
(sire: Kilowatt D'Ochain) has taken the Supreme Championship at the Royal Welsh Show. Hero was exhibited by Graham Morgan.
Standing reserve to him was Solway View Kesha (sire: Solway View Firecracker) from Kevin Watret. The photos of all winners and the result list can be found on British blue society web-site or in our winning photogallery here.
25.7.2017, Kamil Malát
New summer catalogue of Génétique Avenir Belgimex

New company's logo -> new A.I. center -> new bulls -> new catalogue :-) - that is Génétique Avenir Belgimex (GAB). Special summer edidion of GAB's catalogue you can find here.
17.7.2017, Kamil Malát
Fabroca catalogue 2018
8.7.2017, Kamil Malát
Langoureux de Fooz R.I.P.

One of the most successful Belgian blue bulls of current days -
Langoureux de Fooz
- was slaughtered due to health problems. This bulls was 8,5 years old and during his career produced 154.512 straws. Together with the other BBG sires like Kubitus and Adajio was one of the most popular BBB bull from BBG offer. Langoureux was a son of Bringlee Blackstar, who is was born in the UK. Langoureux's mother was famous cow Gloire de Fooz (father: Lasso), which became overall cow champion on the Belgian national competition in Libramont in 2009. Langoureux is one of the few bulls that, although not of full Belgian origin, has become very successful in Belgium and the other countries too. His breeder is a well-known farmer Eric Coheur.
25.6.2017, Kamil Malát
Solway View Illusion is the Royal Highland Show's supreme champion

On Thursday, June 22, 2017, the British blue championship was held in Edinburgh, Scotland as a part of the Royal Highland Show. The supreme and female champion was Solway View Illusion (Solway View Dynamite x Solway View Euphoria x Empire d'Ochain) from Kevin Watret's herd. The reserve championship took Rhymil Kylie.

The judge at this show was Mrs. Gail Ellis.

The photos of all winners and the result list can be found on British blue soeciety web-site or in our winning photogallery here.
23.6.2017, Kamil Malát