Foreign articles and publications
Here you will find some of foreign professional articles and scientific papers on the theme Belgian Blue breed. There are also several books devoted to the Belgian blue breed. Some articles can be found on the Internet.
Books:

The Belgian blue:
The History of a Cattle Breed and its Conquest of the World
(Compère G., Buren R., Hanset R. 1996)

The price of this exceptionel book is 25 EUR plus shipping. If you want to order it, please send an email;or call Herd-Book BBB. The book is available in English or French.



Dubbel gespierd:
Management en fokkerij van het Belgisch-witblauwras
in Vlaanderen en Nederland
(Guy Nantier, CRV 2006)
Book about the Belgian blue in the Netherlands, only in Dutch.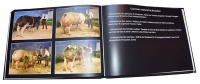 Championnats des concours 2015
(Olivia Germeau, 2016)
Photo book with 300 pictures of the champions from all Belgian shows (nationals as well as provincials) organised in 2015. The price of this book is 85 EUR plus shipping costs. If you want to order it, please send an email to author.

La Galerie des Champions Blanc Bleu Belge
(Belgimex, 1993)
Overview of Champions of the Brussels Exhibition from the first show held in 1924 until 1992. In addition the book contains a photo gallery also some information and photos relating to the history of the breed.





Blanc-bleu belge
Photos: Jérôme Chabanne
Text: Mary-Gérard Vaude
(Castor-et-Pollux, 2011)
This book contenst 56 pages with 50 photos. It is avalaible only in French. You can order it HERE for 5,50 EUR.



The Belgian Blue: Beef on the table
(consumer's guide)
Text: Raymond Buren, Rogen Hanset
(La Renaissance du Livre, 1999)

Consumers will find in this booklet all information related to the history of the breed, its use in cooking with the presentation of thirty recipes, the dietetic aspects of the beef as well as the sanitary means implemented to guarantee animal quality.




Jubilæumsbogen:
Landsforeningen for Belgisk Blåhvidt Kvæg i Danmark (1979 - 2004)
Text: Mogens Stendal, 2005

Book issued by the Danish Association of the Belgian blue breeders at the 25th anniversary. The book charts the systematic breeding of the breed from its first imports until 2004. It was published only in Danish and can be downloaded HERE (pdf file).
Publications for experts:

List of publications issued by the Belgian Herd-Book (link)

These publications are available upon request for price 5 EUR each. If you want to order it, please send an email or call Herd-Book Blanc Bleu Belge at +32.83.23.06.12.
VeeteeltVlees on-line: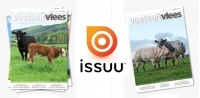 2017: 12 • 11 • 10 • 9 • 8 • 7 • 6 • 5 • 4 • 3 • 2 • 1
2016: 12 • 11 • 10 • 9 • 8 • 7 • 6 • 5 • 4 • 3 • 2 • 1
2015: 12 • 11 • 10 • 9 • 8 • 7 • 6 • 5 • 4 • 3 • 2 • 1
2014: 12 • 11 • 10 • 9 • 8 • 7 • 6 • 5 • 4 • 3 • 2 • 1
2013: 12 • 11 • 10 • 9 • 8 • 7 • 6 • 5 • 4 • 3 • 2 • 1